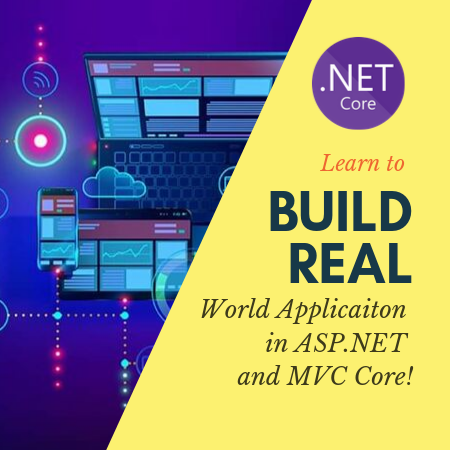 332 students

46 lessons
0 quizzes
16 week duration
1.2 What we will build
Requirement
So we are going to build a web application for an imaginary bike dealer called vroom. This application will be used by bikers who are interested in buying or selling a bike.
The buyers who are interested in purchasing the bike, can browse the bikes available with dealer. They should be able to filter the bikes on the base of make and models. If they find the bike of their interest, they will call Vroom and further process will be done offline.
If any one wants to sell his bike,  he will call Vroom and an executive will take the vehicle information on phone and register it on website. So This is the big picture of this web application.
As part of registering the bike, we need to  have
Make (Harley Davidson)

Model (Street 750)

Specifications (i.e. Mileage, Engine Type, Displacement:750 CC etc)

Features (ABS, GPS Navigation, LED Tail Light, Digital Speedometer, Alloy Wheel etc)

Seller (Name, Email, Phone)

Photos

And finally we should have a photo of vehicle.
Solution
So simple solution to this problem is, that we have to create a vehicle page.
On this page  we will show all the available bikes. User can filter and sort the bikes on this page.
If there are more than 10 bikes, we will show multiple pages.
And from this page user should be able to click the bike and should be able to see the detail of that bike.
Also we will have a link to delete the bike add a new bike on this page
Authorisation
In terms of authorisation, we will have two roles in this applicaiton
Executive

Executive will be the person who will be contacted by buyers/seller, he can Add/Update/Delete the bike.

Administrator

Administrator can do all the activities of Executive, in addition to those, admin should be able to create new executives.
And finally if anyone is not logged in, he should only be able to browse the bikes, we will hide add/edit/delete buttons from bike page.
So now you know what we are going to build, lets understand what is ASP.NET Core and why should be use it before setting up the development environment.